I loved these 7 books. I can't wait to see what reads 2017 brings for us.
Just a note, these are not in any order, they were just my tops reads for this year
Cease (the Bayonet Scars finale)
by J.C. Emery
BLURB
Death silences. Love echoes.
Ruby Buckley is no stranger to loss. She lost her twins in their infancy, lost her son to his demons, and lost herself to a life she never wanted.
Jim Stone is lost. He's a father who doesn't know how to parent, a brother who doesn't know why he ever patched in, and is completely numb to everything around him.
Craving normalcy, Ruby wants to live straight, but that's easier said than done when a member of the Forsaken Motorcycle Club is determined to make her his old lady. She's plagued by a past she can't escape. He vows to give her a better future, even if means delivering the impossible.
But falling in love was only the beginning.
Twenty years later and they're still going strong, even if the world around them is crumbling. Jim's put his club on the line and given Ruby the impossible– her now adult twins she thought she'd lost forever. She has everything she's always wanted.
Love is never more real than when it's forever.
Okay, now that that is out of my system, I can say that this book is in my top five for the year, without a doubt. This is more than a five star read!
I can't believe that this is the final book in the Forsaken MC series. I have been with this series from the very start and have loved each and every book. And each and every character.
You really should read this series in order. There is a storyline that continues throughout the series. It ends with this book though.
The way JC writes, has me feeling like I am part of the Forsaken family, and not just a reader.
If you have read the previous book, you know about the cliff hanger that we were left with. I'm not going to say how that works out though. You just HAVE to read this.
I love how this book doesn't exactly start from where the previous left off. Yes, I may have been a little upset, and tempted, to read the final chapter to find out, but I didn't do it! Don't do it! I'm so glad that I waited for it.
This is Ruby and Jim's story. From the very beginning. It spans twenty years. Their story is full of bumps in the road, but one that stands out…
Their love for each other, and their boys.
Seeing Ian as that broken and scared little boy is heartbreaking.
Hmm, Ryan as a kid…he was a loveable little punk. His first time meeting Ruby had me laughing so loud that I woke my baby up from his nap.
Seeing the changes, in both boys, because of the love Ruby and Jim has for them, I have no words to describe it.
I will say a young Ian and a young Ryan together…they're shitheads!
Also, two words…Super glue!
This book has me heartbroken and happy. I cried and laughed while reading this. I was pissed a couple of times too.
I love the bonus chapters at the end. Great closure for a great series.
I can't wait to see what JC creates next. I will be impatiently waiting. She is one of my must read authors. I have read everything of hers, and have loved it all.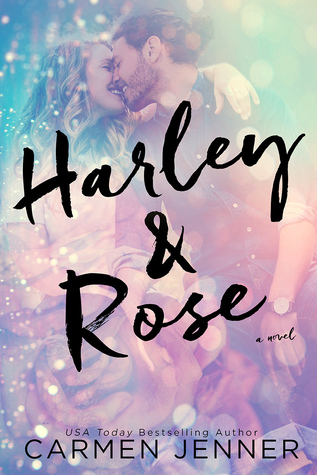 Harley & Rose
by Carmen Jenner
BLURB
Ever since she was a little girl, thirty-year-old Rose dreamed of the day Harley would carry her across the threshold on their honeymoon. So what if this isn't her actual wedding day, and that she's only here because Harley was left at the altar just a few hours earlier?

Trading San Francisco for paradise and swapping her bridesmaid's bouquet for a Blue Hawaii, Rose hopes she can finally escape the friend zone.

Once upon a time they had been more than friends, but life got in the way. She's spent every day since wishing Harley would get a clue.

She's always been his best friend.

He's always been hers.

She's in love with him.

He's... not in love with her.

He's... marrying someone else.

He's... hiding something.

He's... well—it's complicated.
I really wish I had the option for more than five stars! This book has destroyed me. Too many feels. This is one of the best books of the year!
I swear I went through every emotion while reading this.
I did want to hurt Harley about half way through. Right when I was wishing we had his point of view also, we get one chapter. Those few pages had me saying "Oh shit!" and "NOOOO"
My heart hurt for all the hurt Rose went through because of Harley. She got her heart broke so many times by him.
The ending shattered me. That's for sure.
I understand why Harley did what he did. He loves Rose so much. And she loves him just as much. They've loved each other since they were five years old. He's her Pan. And she's his Wendy.
You must read this. Just make sure to have some tissues!
"Forever is an awfully long time."
"It would be an awfully big adventure."
I don't think I can read anymore today. I'm completely heartbroken right now.
Toward the Sound of Chaos
by Carmen Jenner
BLURB
Jake Tucker is broken. At twenty-two, he went in to the Marine Corps a naïve, troubled youth. Nine years and four tours later, Jake finds himself back on US soil, though his mind remains firmly planted in the sands of Afghanistan with the men he left behind.
Wounded, chewed up and spat out by war, Jake has only his dog, Nuke, PTSD, and survivor's guilt to keep him company. He's lived every day for nine years wondering when it will be his last, but there's little comfort in the fact that he's still standing when his platoon isn't.
Ellie Mason doesn't have time for broken. She's too busy trying to put food on the table. And keeping up with the demands of her autistic son, Spencer, is sometimes like fighting behind enemy lines. As if navigating the minefields of single parenthood isn't enough, Ellie finds herself drawn to the quiet Marine who's just as lonely as she is. But she's loved damaged men before, and it left her wounded.
Set against the picturesque backdrop of Fairhope, Alabama, Ellie and Jake find themselves running toward the sound of chaos.
Only the strong survive, and surrender is inevitable.
This is now my favorite Carmen Jenner book! And one of my top reads of the year so far.
Luke is a Marine. He was a POW in Afghanistan. He has severe PTSD and survivors' guilt, but who wouldn't after going through what he did.
Usually I get mad while reading books that deal with PTSD. A lot of authors don't research and almost make a joke of it. This book isn't like that AT ALL! I have close friends with war related PTSD and have seen first hand, what can happen.
Ellie is a single mom. Spencer is her eight year old, autistic son. He's a great kid, but autism and his sensory issues make things difficult sometimes. She is a great mom.
I couldn't put this book down. There were parts where I did wonder if Luke and Ellie could, or would, work out.
This is definitely a MUST READ for 2016!
Preppy: The Life & Death of Samuel Clearwater, Part One (King #5)
by T.M. Frazier
BLURB
Bowtie...'till I DIE.

Samuel Clearwater, A.K.A Preppy, likes bowties, pancakes, suspenders, good friends, good times, good drugs, and a good f*ck.

He's worked his way out from beneath a hellish childhood and is living the life he's always imagined for himself. When he meets a girl, a junkie on the verge of ending it all, he's torn between his feelings for her and the crippling fear that she could be the one to end the life he loves.

Andrea 'Dre' Capulet is strung out and tired.

Tired of living for her next fix. Tired of doing things that make her stomach turn. Tired of looking in the mirror at the reflection of the person she's become. Just when she decides to end it all, she meets a man who will change the course of both their lives forever.

And their deaths.

For most people, death is the end of their story.
For Preppy and Dre, it was only the beginning…
Holy fruitcake batman. I don't even know what to say in this review. All is revealed and everything we thought we knew about our favorite fat bitch, yea, just yea.
This is book six and you MUST read these in order.
For the first 50% to 60% this had me saying "what the fuck" so many times. I felt like I was going crazy.
I couldn't put this down! What a book to end 2016 with.
I don't want to say something and give anything away though.
I absolutely still love Dylan!
Nothing is what it seems.
This is definitely a top read for the year.
"I'd escaped hell before. I could do it again. I'm Dylan fucking Hart, bitch."