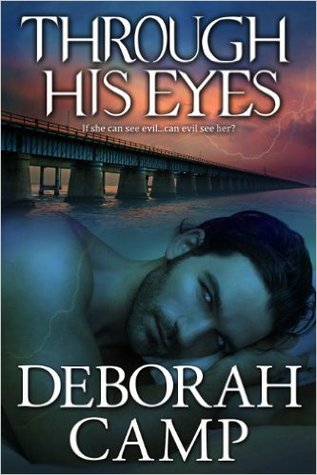 Two psychics – one serial killer.

Someone is stalking women and murdering them in Key West.

Levi Wolfe and Trudy Tucker join forces to help identify the murderer and stop him. Levi can channel the deceased victims and Trudy can tap into the mind of the killer. As a psychic detective team, they're formidable. As lovers, they discover that they're insatiable.

But if Trudy can see through the killer's eyes, can the killer see her?
$3.99 OR FREE WITH KINDLE UNLIMITED
GOODREADS
This is the first book by Deborah Camp that I have read. I really enjoyed it. I will definitely be reading the rest of this series. I loved the characters. I do want more about Quintara though. I thought Trudy was a little naive, but she wasn't annoyingly so.

Trudy Tucker is a psychic. She can connect to murderers and see through their eyes. She has just started using her ability to help people. Her friend, and mentor, Quintara has called her to get her to come to the Keys and help find a serial killer. She goes because she will be working with the great Levi Wolfe!

Levi Wolfe is a well-known psychic medium. He has spirit guide and can communicate with the dead. He has written books, makes television and radio appearances, and he helps the police. He doesn't have a great family history. But he likes to be mysterious.

I did guess who the serial killer was right away, but it was still great reading about how they figured it out.

I am curious about the ending. Is it Lizzie or the woman that was following Levi in the Keys?

I can't wait to read more about Trudy and Levi.
TRAILER
Want a free copy?
Sign up for Deborah Camp's Happy Campers Super Cool Readers Group via her website
ABOUT THE AUTHOR
Personal motto: "Don't wait for your ship to come in. Swim for it!"
Author of more than 45 novels, Deborah lives in Oklahoma. She has been a full-time writer since she graduated from the University of Tulsa. She worked for a few years as a reporter for newspapers before becoming a freelance writer. Deborah's first novel was published in the late 1970s and her books have been published by Jove, New American Library, Harlequin, Silhouette, and Avon. She has been inducted into the Oklahoma Authors Hall of Fame and she is a charter member of the Romance Writers of America. She is also a member of the Author's Guild.
Lover of the west and the people who tried to tame it, Deborah likes to write about strong, independent women and the men who are their equals. She grew up on a diet of TV westerns which have served her well. Since she appreciates men with devilish twinkles in their eyes, she likes to mix laughter in with the love scenes in her books. Also widely published in non-fiction, she writes and edits for a magazine focused on small businesses. Deborah taught fiction writing for more than 10 years at a community college. She is currently working on her next historical romance set in the wild, wonderful west.
Her books have been re-issued on Amazon for Kindle Direct and have attracted tens of thousands of new fans.
Stay tuned for reviews on the other 3 books in the series!